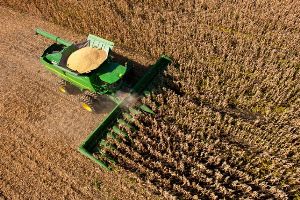 Farmers entered 2012 with high hopes and positive predictions for overall crop production. However, recent statistics indicate 2012 crop numbers took a hit, despite farmers planting at the fastest pace and largest acreage over the past 75 years. This is according to a release from the USDA's National Agricultural Statistics Service, which detailed findings from the USDA's 2012 Crop Production Summary.

Farmers in the Midwest spent the summer battling historic drought conditions, which ultimately stymied crop production, mainly affecting corn and soybeans. The report shows U.S. corn growers produced 10.8 billion bushels in 2012, as compared to 12.3 billion in 2011, marking a 13 percent decrease. At the start of 2012's spring season, the release shows farmers were planting at the fastest pace in 75 years over the largest amount of land (97 million acres). However, just 24 percent of corn acreage was rated good to excellent at the end of July 2012, compared to 62 percent at the same time in 2011.

Soybean production also took a sizeable hit, totaling more than 3 billion bushels and a 3 percent decrease from 2011 numbers. From the release, "While soybean growers in the Corn Belt faced similar struggles as the corn growers, farmers in other states saw much improved conditions from 2011 when soybean production was hampered by spring flooding."


The drought of 2012 clearly impacted crop production, as shown by these year-end results. Corn growers planted over a massive amount of land, but saw growing conditions harmed, ultimately affecting production numbers.