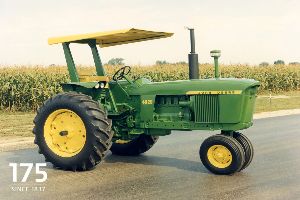 A restored John Deere 4020 diesel tractor served as the centerpiece for an April 6 auction at the annual "Gold Rush" event at Aquinas College High School in Columbus, Ohio, giving tractor enthusiasts an opportunity to own one of Deere's first utility tractor models. This is according to a recent article from the Columbus Telegram.

The article states the transformation of the classic tractor began in January, after the machine was donated by Aquinas supporters Diane and Russ Moravec. More than 200 hours of volunteer work by employees at Plains Equipment Inc. and an estimated $12,000 in parts served as the backbone of the charitable effort. Other companies assisted Plains Equipment in the process, including Northside Inc., Diesel Specialties of Sioux City, Iowa, Bill's Machine of Schuyler, and Marquis Bodyshop, which refurbished the tractor's John Deere green paint.

Mike Siroky, a mechanic at Plains Equipment, stated in the Columbus Telegram article, "The tractor could be purchased to put to work on the farm or, for the right buyer, it could become a classic tractor for the parade circuit and spend most of its time in the garage."

The John Deere 4020 utility tractor was in production from 1964–1972, and 184,879 machines were built within that timeframe. The restoration of this 4020 was put to charitable use, benefitting the annual "Gold Rush" at Aquinas College High School.