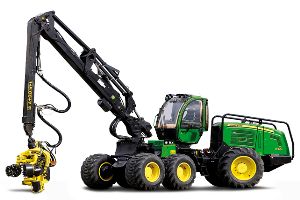 Using innovative technologies, the John Deere Company has added two new E-series wheeled harvesters that are equipped to give loggers more power, greater productivity, and higher uptime while allowing them to maintain lower daily operating costs. This is according to a recent John Deere press release.

Meeting Tier 3 emission standards, both the John Deere 1270E and John Deere 1470E are equipped with a fuel-efficient and powerful John Deere 6090 PowerTech Plus turbo-charged 6 cylinder 9.0L engines, delivering high torque at low RPM. The harvesters also possess twin-pump hydraulic systems that utilize two open-loop pumps, one for harvester head and transmission control and one for head and boom control, which gives operators simultaneous steering and increased boom and wood-processing control.

Each new model come equipped with the John Deere TimberLink monitoring system, an integrated suite of information services for optimizing equipment and overall productivity. The system provides an operator report as well as individual guidance for working method development.

Pekka Leppanen, product marketing manager for John Deere, says, "At John Deere, the success of our customers is of utmost importance to us, with innovation at the heart of everything we do. The John Deere 1270E and John Deere 1470E harvesters represent our dedicated focus to provide powerful equipment that gets the job done, while retaining the same smooth, stable operating environment only John Deere can offer the industry."

According to the press release from Deere, the new John Deere E-series wheeled harvesters increase logging productivity while maintaining lower daily operating costs, using innovative features that make logging simple.