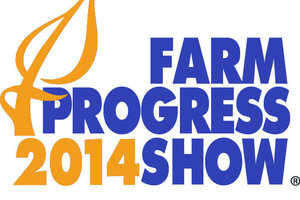 Thousands of agriculture fans from around the world will gather at the 2014 Farm Progress Show to see agriculture equipment displays, antique machinery, and more.
FEATURED NEWS STORY
The 61st annual Farm Progress Show, deemed as "the world's fair of agriculture," will take place August 26th to 28th in Boone, Iowa, showcasing machinery and information provided by more than 600 exhibitors, including the latest from John Deere.
Thousands of people will gather from around the United States and the world to experience the three-day event featuring demonstrations, a variety of agriculture equipment displays, antique machinery, and much more. Seed and crop protection products and many other farm supplies and services will also be shown at the event.
Matt Jungmann, Penton Farm Progress Events Manager, explained that the 2014 show is coming into shape very well with impressive ticket sales, website visits and international registrations. However, because of another cool summer, corn has not matured enough to run a full demonstration at this year's event.
Jungmann said, "There is still a chance that 60 acres will be 'black layered' and therefore able to harvest at show time. If we are able to demonstrate on those acres, the corn will be VERY wet, the stalks will be VERY green but we will still do as much demonstrating as possible if the heat will get that corn into shape by showtime. We will work to do all demonstrations possible given the limited area available."
The event will be located at 1827 217th Street in Boone, IA. Admission is $15 per adult and $8 for anyone 13-17 years old.
This major annual agriculture event provides producers from around the world with an opportunity to learn from an assortment of marketing, management and production seminars while displaying their dedication to agriculture.