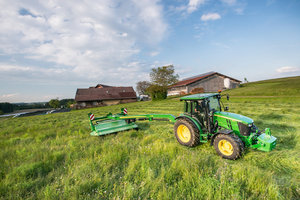 U.S. farms are expected to reach their highest net farm income total in 40 years
FEATURED NEWS STORY

According to the USDA's "2013 Farm Sector Income Forecast," the U.S. net farm income is expected to increase 15%, which would result in the largest inflation-adjusted amount since 1973.

The net farm income, which total includes change in inventories and other adjustments, is forecast to be $131.0 billion in 2013, up from 2012's estimate of $113.8 billion. The report shows the value of crop, livestock, dairy, and poultry production are all expected to see solid gains in 2013, as many U.S. farms rebounded from 2012's drought conditions, with corn production leading the way in production values.

Corn sales and cash receipts in 2013 are expected to significantly decline in 2013, reflecting a decline in the average calendar year price of corn for the U.S., according to the forecast. However, the large growth in corn yields and production this year are expected to lead to a large increase in end-of-year inventory, offsetting the predicted decline in receipts.

Additionally, strong price gains in selected crops such as soybeans, hay, fruit and nuts, as well as other vegetables and melon, have helped pushed the forecast income to record levels. Michael Swanson, the senior agricultural economist in Minneapolis at Wells Fargo & Co., the largest U.S. farm lender, said in a telephone interview with Bloomberg, "Bigger grain crops mean farmers have more bushels to sell, and that helps to offset the drop in grain prices. A lot of specialty crops including hay, vegetables, fruits and nuts have done very well this year. Pistachios and almonds are just gold."

U.S. farms are expected to reach $131.0 billion in net farm income this year, marking a significant (15%) jump compared to 2012. The value of crop, livestock, dairy, and poultry production are all expected to see solid gains, assisting income, according to the Farm Sector Income Forecast.